Some lasting thoughts from the Harry Potter series...
Bravery comes in many forms
When Harry had to seek out Voldemort, he did so in order to stop everyone else suffering, as he himself would rather suffer. Probably one of the bravest and most poignant acts throughout the whole Potter series. Similarly another iconic act of bravery is Neville. He was the unexpected hero that everybody needed. So whether you want to fight for what you believe in like Hermione (even if no one did take SPEW seriously) or you want to confront your arch nemesis in a forbidden forest, bravery comes in many forms and is a centre theme for the Harry Potter series. 
Prejudice 
Don't just a book by its cover. People aren't always what they seem, who would think that a nervous teacher with a stutter would actually be harbouring Voldemort under Professor Quirrell's turban? Or that Dumbledore actually had a more complicated past that everyone seems to know little about? or that Hagrid the Half Giant would turn out to be one of Harry's most loyal friends? It is an important lesson to remember. 
Fear
Facing fears is a part of life. However big or small it may seem everyone has to face a fear at some point. Harry Potter has taught us this. From Ron facing his fear of spiders in order to save Hermione after the basilisk attack to Mrs Weasley facing her biggest and most tragic fear - losing a member of her family. Likewise Harry and facing the dementors. They all overcame their fears and have each other to help with that. 
Money and Material Possessions aren't Everything 
The Weasley's are known for being poor in the Harry Potter world, but to Harry they are the one thing he wants the most: a family. In that sense that makes them the richest. Ron's family and household has always been full of love and laughter and Harry's life has had that one thing lacking. It goes to show that money isn't everything, Harry has bundles of it, but still wants what Ron has. 
It turns out the Harry Potter series doesn't just make a great read, but can also teach you some valuable lessons.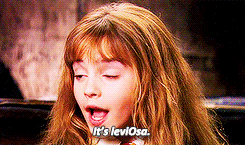 Please reload