Review: Coral and Bone by Tiffany Daune
Since reading JK Rowling's portrayal of mermaids in 'The Goblet of Fire' and seeing them in Pirates of the Caribbean, I love the idea that in contrast to 'The Little Mermaid', there is something slightly sinister about them. I love the idea of mermaids luring sailor's to their deaths and having razor sharp teeth, I think it adds something fresh to Hans Christian Anderson. Halen is the main protagonist, but when thrust into a new mysterious world, and knowing there is something different about herself, she can't quell the feeling of a new, undiscovered power at her fingertips. It's quite rare for me to have found a book about mermaids that I enjoy, I often find they are aimed at younger readers, but this one isn't that narrative, it is definitely suitable for the YA category. 
This is my first fully-fledged mermaid based book, and I am glad it is because it is often refreshing to read a genre I haven't dabbled in before. The book is written in third person but follows Halen's perspective. It immersed me into her way of thinking, especially how her grief controls her abilities at the beginning was actually very relatable. 
Furthermore, the world building is superb. I think the author did such a good job at making the world feel fully fleshed out and it really piqued the interest of the reader, I was constantly wanting to know more and explore this world. 
The plot is a like an intricately woven spiders web of tangles. From the characters to the illustrative language, the tale of a teenager trying to find out who she is, is the classic story everyone knows, but Coral and Bone is done in such a way that the writing gives purpose to every character written. From light-hearted Ezra to mysterious Asair, I genuinely enjoyed every character. Considering the main character is meant to be around 15 years old, I did feel some connection with her. I didn't feel she was bratty or immature and actually thought all things conserving that happened to her, she handled things quite well, also because of me being older than the character, her age sometimes being obvious, I liked Halen. 
I would recommend this novel to everyone who enjoys YA and of course mermaids. However, I also think the way the book is marketed in the fact that it is advertised as X-Men and mermaids is completely accurate! Halen's powers combined with the mystical all add intriguing and different elements, I hadn't read anything like this before and I really enjoyed it. 
Combined with the cliffhanger and the writing style which I adored overall, I have to give Coral and Bone 4/5 stars. This book reeled me in hook, line and…fin? (pardon the awful pun) I don't know about you but I definitely prefer these scary mermaids to the sweet ones we most often see. Venomous mermaids and a cool cast of characters. 
I will definitely look out for more books by Tiffany Daune, and you should too!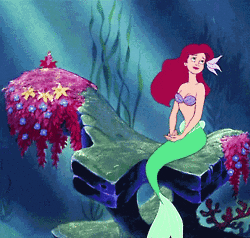 Please reload